Hollow Ball Covers For Drinking Water
Floating Ball Covers for Municipal Drinking Water applications NSF 61
Not just a ball but a solution to a problem for many Municipal Drinking Water applications, ECC provides not just a ball, but a solution to a problem. Most of our successful installations have resulted from working closely with customers, sharing our ideas and experience and tailoring a solution to meet their specific requirements.
ECC floating ball blankets provide highly effective solutions to difficult water storage problems for Municipal Utilities. By placing a sufficient quantity of hollow plastic balls onto the surface of a liquid, the balls automatically arrange themselves into a close packed formation over 91% of the surface area. This high surface coverage provides an extremely effective barrier and significantly reduces the mass and heat transfer mechanisms operating between the liquid and surrounding environment. The hollow plastic balls will form a floating cover for ponds, tanks, lagoons, and other basins.
The hollow balls offer a very low conductivity which results in an extremely effective thermal insulation barrier.
With levels always moving the ECC floating ball covers will rise and fall with fluctuating water levels in tanks and reservoirs. When water levels fall the balls will double stack until the level rises again and the cover will automatically spread into a single layer of coverage.
Innovative Applications for ECC Hollow Plastic Balls Include…
Evaporation reduction. Covering the water surface minimizes evaporation and water loss.
Algae control. The balls block the UV from penetrating the water.
Camouflage pond basins from waterfowl / bird deterrent
Ammonia reduction
The ECC Floating ball cover complies with Federal mandate of reducing the use of chemicals in the public drinking water.
Comparison of the Floating ECC Ball Cover against the Normal floating solid cover.
Reduction of liquid loss through evaporation by up to 90%.
Floating ECC Ball Cover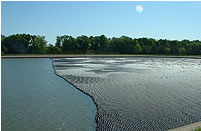 No Maintenance
No vegetation growth on cover
Easy to move through for pump repair
10 year warranty
Less expensive
Normal floating solid cover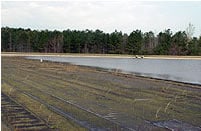 High Maintenance
Vegetation Growth on cover
Must be removed to repair pumps
1-2 year warranty
Considerably higher cost
| | | |
| --- | --- | --- |
| Liquid Loss Savings From Water at these temps F | (W)  4"balls Evaporation loss in quarts / ft2 h | (WO) Cover Evaporation loss in quarts / ft2 h |
| 70 | .05 | .2 |
| 90 | .14 | .56 |
| 125 | .49 | 1.96 |
| 160 | 1.28 | 5.12 |
*Testing is per sq. ft. of open surface per hour