USAF Story: "Bird Deterrent Ball Covers" Preventing Aircraft Strikes
by Airman Christie Putz, 92nd Air Refueling Wing, Public Affairs 10/14/2003 – FAIRCHILD
AIR FORCE BASE, Wash. (AFPN) — The base here is the first Air Force installation to use "
Bird Deterrent Ball Covers
" as part of a new program to prevent airfield bird strikes.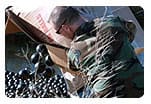 The new tool, part of the 92nd Air Refueling Wing bird-aircraft strike hazard program, uses small, environmentally safe, black balls to cover the surface of the water on the drainage ditches near the flight line. The idea behind the balls is that they will block the ultraviolet rays and prevent growth of algae and weeds, making it a less desirable place for the birds to roost, said Master Sgt. Stacy Maier, of the wing's flight safety office. The balls also prevent the birds from being able to sit on the water and pose a threat of flushing when aircraft fly overhead, he said. "Bird-strike damage can range from something as simple as a small scratch or dent, to something as big as causing an airplane to crash, due to a complete system failure," Maier said. Additional positive aspects include easy installation, lack of maintenance and ability of the balls to adjust to fluctuating water levels, he said. Although Fairchild is the first base to experiment with this technology, it has been used before.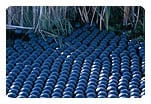 "San Francisco International Airport has used them with great success," said Lt. Col. Lesley Spraker, the wing's chief of safety. "Since they placed the Bird Deterrent Ball Covers in their open water, they have dramatically reduced bird activity in and around the previously open water areas." No other Air Force bases use this technology, he said. When the idea was presented at the bird aircraft strike hazard conference, several military bases and civilian organizations asked Fairchild to report the results so they could evaluate the technology. "We expect this to be a very low-cost solution to an on-going problem," Spraker said. "Most other options were not practical, due to the large size of the drainage ditch." Other solutions were considered but were either not cost-effective or would present other problems in the future, he said.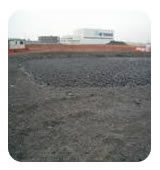 Fairchild has many other precautions to prevent bird strikes. Such precautions include covering nearby skimming ponds with netting, using several remotely controlled propane cannons and mounting one in the rear of a truck as a scare device. Additionally, falconer Dave Knutson, from the wing safety office, travels the airfield daily with his trained falcons to clear the runway of birds. Knutson also uses his personal hunting dogs to flush the birds out of the grassy areas adjacent to the runway, Spraker said. "With the combined effort at Fairchild, we have seen our damaging bird-strike costs drop dramatically. The last damaging bird strike was in December of 2002 and resulted in a cost of $1728," Spraker said.
(Courtesy of Air Mobility Command News Service)