Water Bath Balls Cover used for Vapor & Mist Control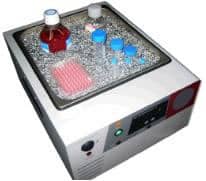 Water Bath Balls Used For Vapor and Mist Control Laboratory & Medical
Water Bath Ball Covers support the samples without blocks, racks, floats or weights.
Benefits of Water Bath Ball Covers:
Reduces evaporation by 90% and always stays filled
Reduces potential fire hazard from water boiling off
Thermal insulator reduces energy consumption
Compatible with earth-friendly disinfectants
No need for racks or floats to organize vessels
No need for Bottle-neck weights to hold bottles down
Ball Diameter and Surface Coverage
The percentage of area covered by the water bath balls is independent of the ball diameter, being the ratio of a circle to the hexagon which surrounds it. This equates to 91% of the liquid surface area. The frictional contact points ensure that each ball remains stable when subjected to increased liquid or air turbulence.


| | | | |
| --- | --- | --- | --- |
| Diameter (mm) | Average weight (g) | Number per ft² | Number per m² |
| 10 | 0.2 | 1,076 | 11,600 |
| 20 | 1.0 | 270 | 2,900 |
| 25 | 1.5 | 172 | 1,850 |
| 38 | 4.5 | 74 | 800 |
| 45 | 7.0 | 53 | 570 |
| 50 | 8.8 | 43 | 465 |
| 70 | 16.0 | 22 | 235 |
| 100 | 40.0 | 10 | 116 |
| 150 | 100.0 | 4.8 | 51.5 |